Who are those guys?
Mike Buzard (CEO)
In 2016 I was looking to take my career in a new direction. I had never run my own business and I was ready to try. My friend Mr. Bill Kish suggested a business doing product destruction. The more that I talked to him about it, the more I became intrigued. Luckily, my wife Mary Jo was very supportive when I explained that I wanted to stop working on Nuclear Medicine Gamma Cameras (best paying job I ever had) and start a small business. After 20 years in the United States Army and over 17 Years working for two major medical equipment manufacturers, it wasn't the logistics or the processes that were causes for my concern. It was the cash flow of maintaining a large amount of equipment and a large storage facility. Luckily my friends were supportive in the venture. My wife Mary Jo decided to join the cause whole heartedly and work as the Chief of Operations. Our friend Jim Mattes decided to join us and run the chemistry department. The team came together with a larger cast as Deanna, Regina, Stacy, Stewart, Joseph, Aron, and Ed joined us and rounded out the core crew. With thanks to God we made it through the first 5 years all while learning more about the recycling industry and building our client base. Here is where I need to thank the Carolina Recycling Association for being a great source of information and mentorship. Thanks also to the North Carolina Beer and Wine Wholesalers Association and Triangle East Chamber of Commerce for guidance and support. Today we have a team of about 35 people who understand what we are trying to achieve. Together we work with over 50 different companies trying our best to Recycle, Re-use, and Repurpose all plastics, glass, metals, cardboard and wood scrap as we complete product destruction for our customers. It still amazes me that all of these materials were once just taken to landfill and covered up. I can't say enough about our customers, our recycling partners and our service partners that work with us day to day trying to solve logistics problems, equipment problems and Department of Revenue issues. Thanks also to Kirk at VIM for believing in us. All of you are Rock Stars in my book. New ideas on the drawing board include a new type of plastic baler for small and medium sized business and a plastic grinder for those hard to recycle items. I sincerely hope that through our combined efforts, we will leave a world behind that is just a little better for the generations that follow us.
---
Mary Jo Buzard (COO - BDSI)
I am happy to support my Husband Michael in this endeavor we call BDSI. Mike and I have been married for nearly 30 years and although we sometimes get on each other's nerves, we do make a good team. The key to victory is allowing each other to do what we do best and communicating to everyone what is expected. Beverage destruction work is labor intensive and our shop does a lot of manual processing to ensure that the metal, plastics and cardboard are ready to join the recycling stream as compacted and clean as possible. I think we have proven to ourselves that it is possible to recycle or reuse nearly 100% of what is delivered to us and we are proud that we have built BDSI around this goal. Many days I leave work tired but I do so knowing that we have done our part for the environment and just possibly we are helping make a better world for our Grandkids. After college I worked with the First Infantry as an Airborne Officer and among other things, I learned the value of building a good functional team. The employees who have joined us are people who know that we are not just doing a job but trying to make a positive difference in our world. In other words they are mission oriented and not afraid of hard work. I believe that our employees have formed a great team and most days it feels like a family. We look forward too assisting with any green solutions that your company may need.
Thanks for allowing our team to serve you.
Mary Jo Buzard, COO, Beverage Destruction Service Inc.
---
Deanna Clark (CFO)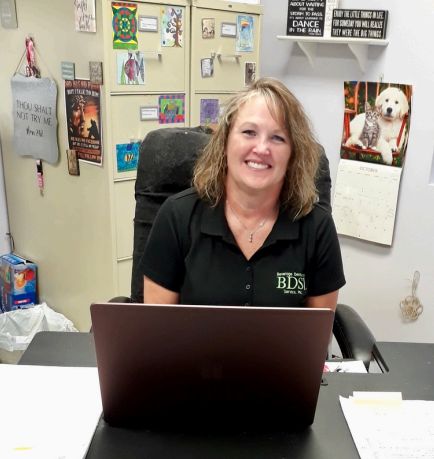 When I came to meet Mike for my interview, I thought I was coming for just a place to work while I interviewed for other companies so I could have a job. Mike offered me an office position to help him out with the company. After working here for over three years I have gone from office manager to CFO and it truly has been a blessing to work for BDSI and have Mike as my boss. Mike treats his employees with respect and truly cares about us. I have never had a boss like this. I've seen a lot of employees come and go here and I've met some really nice people working here. I've grown a lot and changed a lot but hopefully it's all for the better :-) When I first heard about BDSI and what the company does, I was intrigued, I had never heard of such. Now when I'm asked what we do, I'm proud to tell them. I am honored to work for a company that makes a difference for my children and future grandchildren. We have a great group of employees here with awesome leadership. We care about each other and have become like a family here at BDSI. I couldn't ask for more.
---
Stacy Little (Shop Foreman / Documents Lead)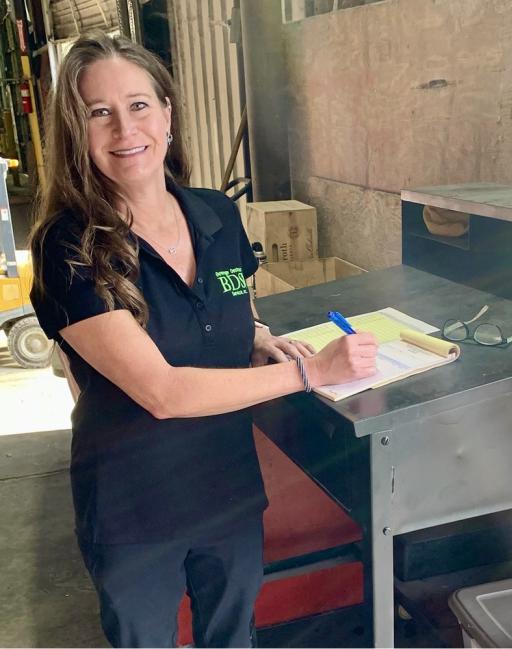 My name is Stacy Little. I have worked for BDSI since December of 2019. Within that time I have progressed from Administrative Assistant and doing some of the chemistry for the company to being promoted to Warehouse Floor Lead. I had previously had a career as a dosimetrist and radiation therapist for 24 years and did not see my qualifications for this new position. However, my medical background and dealing with various patients has strengthened my ability to deal with the challenges of day-to-day work with BDSI. I now manage 34 employees on a daily basis. Supervising so many qualified people with various personalities makes each task unique.
I have found a family atmosphere here at BDSI and am truly blessed to work for Mike. He treats everyone with respect. I am proud to work for him and BDSI. A company that truly makes a difference in the recycling world.